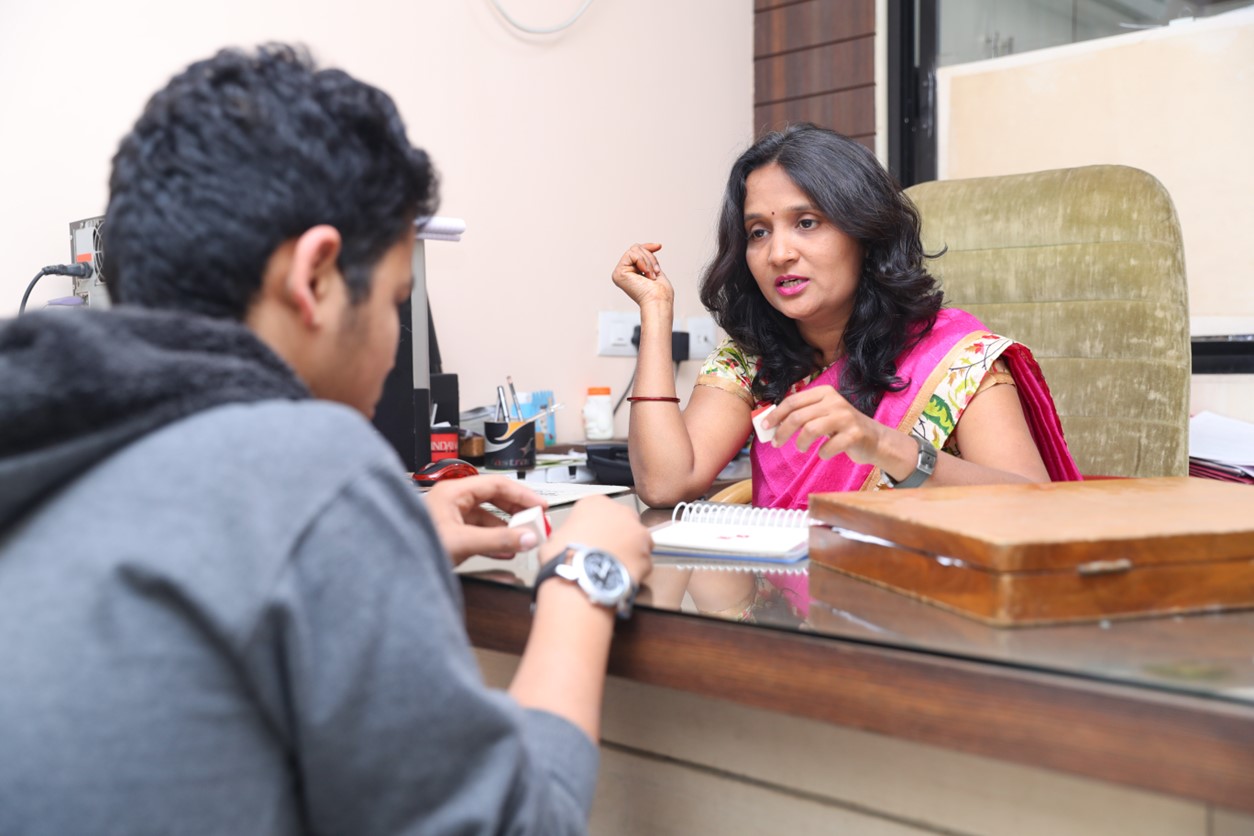 Counselling & Psychotherapy
This department is headed by Dr. Deepali Pangaonkar( MBBS, MSc. PhD, PGDHR). She is a behavioural scientist with an experience of two decades. She has developed her skills along with this department for behavioral interventions, clinical assessments, group therapies, relaxation techniques and career counselling. She has mastered the art of counselling parents, students and couples for improving cordiality, child rearing and resolution of conflicts. Along with her team she address the common unmet needs of adolescents and youth. She also conducts individual and group therapies for marriageable girls.
The Department of Clinical Psychology carry out following tasks
Psychological Assessment and Psychometry
Psychological assessments are done on a referral basis or as a part of ongoing treatment. The department and team is involved in administration, analysis and reporting of major, standardized and clinically relevant test of behavioural problems and mental health problems.
Clinical Rating Scale
Personality Scale
Autistic Spectrum Rating Scale
ADHD Rating Scale
Learning Disability Profile
Cognitive Tests
Psychosocial, psychoeducational, academic, intelligence and neuropsychological assessments are also done.
The purpose of these assessments is to provide diagnostic clarification of individual specific understanding, guidance and recommendations for appropriate interventions. The list of tests and tools used at the institute are as follows:
Tests of Intelligence(IQ)
Tests of Aptitude(Career Guidance)
Behavioural and Personality test(Counselling Life Skills)
Tests for Learning Disability( Diagnostic and recommendation of remediation program)
Projective tests ( Behavioural modification and parenting for Children)
Psychotherapy
The clinic offers psychotherapy to individuals, families and groups with the goal of assisting individuals and groups to gain greater insight into their problems, cope more effectively with personal stresses and interpersonal conflicts, and achieve higher performance.
Psychotherapeutic modules are aimed at persons and their caregivers with
Depression
Anxiety
OCD
Somatoform pain disorders
Dementia
CIBS provides opportunity for sharing of problems, education and spreading awareness of mental disorders. Group therapy has been helpful for persons and caregivers of ADHD, OCD, Schizophrenia, Anxiety and Learning Disability. Self -help groups have also been formed by the institute like Astitva, Soahm and Vishwas.
Guidance and Counselling
Guidance and Counselling services are provided for academic issues, interpersonal conflicts, marital conflicts, parent child relationship and career
Projects
The institute has developed various projects for Child development (Manthan), Academic development (Disha), Teacher skill development program (Gurutva), Learning disability (Soahm), Sports psychology (Manolaksh) and School Mental Health program.
Special Clinics
Formed with the aim to educate and spread awareness among persons and caregivers regarding psychiatric disorders, Autism, ADHD, Learning Disability, Schizophrenia and Dementia.
Academics / Training Programs
Workshops and internship programs for training and research purposes are held for psychologists, educationists and social workers.
Services
Mrs Jyoti Tembekar an RCI recognized psychologist is providing the special inputs for this department for last 15 years. The services involved under this department are :
Individual Counselling
Career Counselling
Family Counselling
Couple Counselling / Marriage Counselling
Premarital Counselling
CBT-REBT
Group Therapies
Online Counselling
Sports Counselling
BOOK APPOINTMENT