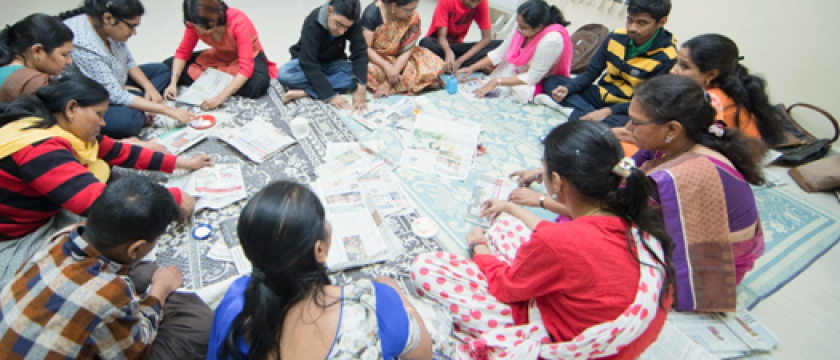 Jagruti
A project of developmental and behavioural interventions for special persons was established in 2007 under Central Institute of Behavioural Sciences. Jajruti is our advanced program since 2012.
Special persons need special care, Jajruti firmly believes that every person has the potential and a path to lead their independent life with self-respect and dignity.
Jajruti provides cost effective individualized Intervention Program, targeting these special needs and outcomes. A team of experienced developmental therapist and strategist who by virtue of their missions are providing scientifically and culturally acceptable programs for skill development and empowerment.
Special children and care givers approach us for diagnoses, Therapeutic interventions and remedial programmes. Parents are integral part of this programme and provide support for Re-integration and Rehabilitation of the special children.
OUR MISSION
To empower special children with the ability to protect their own rights, live with dignity and to re-integrate with society, finally to make them re-discover their place in this world.
OUR VISION
To provide authentic, scientific, culturally acceptable, ethical and economical intervention programmes for especially abled citizen. Training them guiding them, holding them till they discover social identify.
OUR SERVICES
IN CIBS every child undergoes clinical assessment, standardized screening procedures, psychometric evaluation by experts to determine the biomedical diagnosis, psychological deficiencies and individual psychosocial needs. Each individual gets systematic guidelines for management and interventions.
EARLY INTERVENTON PROGRAMM
Special children (below 6yrs of age) with difficulties in performing activities of daily living, learning, language expression, socialization, bladder, bowel control and disciplining undergo early identification and interventions for best results.
OBJECTIVES
Child centered targets to achieve the required level of functioning
DEVELOPMENTAL ENHANCEMENT PROGRAM
**GROSS MOTOR SKILL
**FINE MOTOR SKILL
** BEHAVIOURAL SKILL
GROSS MOTOR SKILLS
Gross Motor skills are those body movements, which involves the large muscles of the body to perform everyday functions like sitting, standing, walking, and running. Children who struggle with gross motor skills have trouble in hopping, jogging, climbing and jumping. Some of the gross motor activities which are given to children are simple tossing the ball, moving like an animal, wriggling like a snake, using balloons balls between the knees and walking, imitation, pretend to play etc. Activities relate to eye hand co-ordination and eye foot co-ordination (using simple techniques and tools). Working on gross motor skills help the children to gain strength and confidence which are important for healthy life style.
FINE MOTOR SKILLS
By using standard and advanced Neuro motor modulation exercises we enhance the level of fine motor control. This helps the child to improve upon their level of writing, eating, chewing, speaking block activities, holding scissors, buttoning, beading and other activities of daily living.
BEHAVIOURAL SKILLS
We at CIBS identify the type of deficiency of shortfalls in social skills reflected in social relationship and reciprocity, emotional responsiveness, mood swings and control of repeated demands, mobile / TV screen addictions, food habits, nail biting, thumb sucking and impulsivity are taken care of. Experts of Jagruti achieve this through regular sessions of behavioral interventions like Time-out, Reward and punishment and positive reinforcement. Using techniques like Applied Behavior Analysis (ABA) Life skills education, relaxation technique and cognitive behavior therapy we improve upon the behavioral levels like interpersonal communication emotional control, stress responses, Creative thinking and problem solving. This also helps children overcome their fears and depression.
INITIATING FOR SCHOOLD READNINESS
School going children experience Anxiety, Phobia and refusal due to primal fears and low self esteem. Every child needs comprehensive evaluation on Psychiatric Developmental, Psychosocial and Sensory motor domains to understand the primary factors obstructing smooth entry into school. We try to understand the child and parents fully to alleviate the barriers in scholastic acceptance and progress.
ENTERTAINMENT THERAPY PROGRAMM
Each child needs exposure to environmental and social cues for their development and well being. We organize picnics, educational tours (malls market, museum, railway station, ticket counters, hostels etc) and infotainment visits, (movies, zoo parks etc). These visits provide encouragement, upgradation of socials skills, self esteem and social integration of children, who experience discrimination due to social apathy.
VOCATIONAL TRAINING
Every child needs guidance and support to identify his/her skills to become financially and socially stable. This is achieved by providing various opportunities to explore vocational skills like making envelopes, artificial jewelry, diva, rakhi, torn, wall hangings and agarbatti. These projects can be further developed for industrial and occupational pursuits, making them discover their hidden talents, financial independence and dignity.