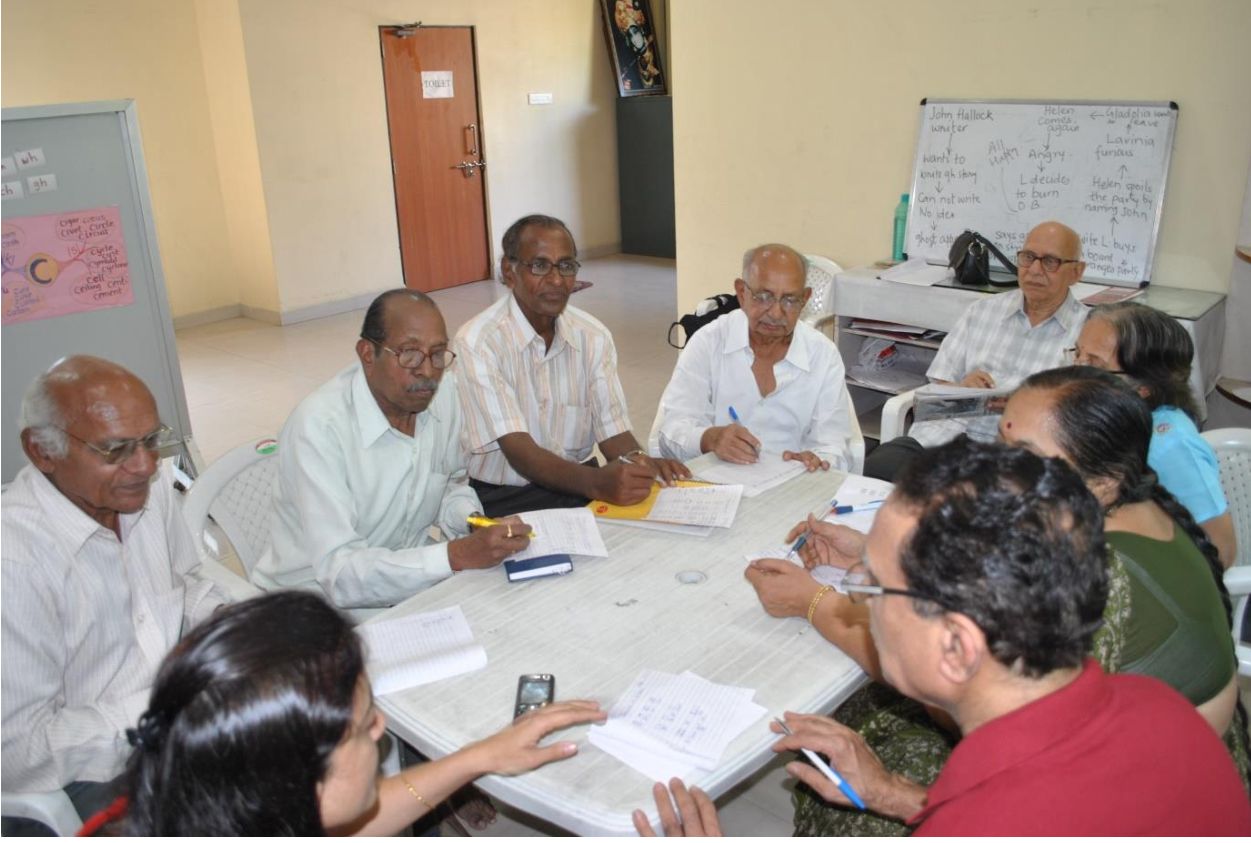 Cognitive Remediation Therapy
Central Institute of Behavioural Sciences developed special inputs needed for persons who suffer from memory loss, concentration problems, learning disabilities, and communication and interpersonal skills. These problems are related to their cognitive and executive functions. In a busy set of mental health these faculties go unattended and hence the recovery of the person remains guarded. Problems of cognitive skills are commonly seen in all age groups but are more discretely dealt in aging population with various forms of Dementia.
Our institute has collaborated with international universities and clinics like Pennsylvania University USA and Cambridge University UK to deliver the best exercise and therapies for cognitive strength. The program is under GMCRC of the institute and is popularly call as Brain Gym by our clients. The whole project is named as Manosmriti and since 2007 it is constantly evolving itself to serve larger population with scientific and effective remediation process.
What Is Cognitive Remediation?
Cognitive remediation therapy is a set of mental and physical exercise that is available as a regular home based program as well as a personised guided therapy as our centre. The set of activities are also available as computer based programs. These activities are stimulating the weaker functions of the brain and evolve the systems to cope up with the challenges experienced due to brain damage, diseases and inborn disabilities. The battery of cognitive exercises are formulated by experts of the past and have been rapidly improving with scientific breakthroughs and advancement in neurosciences.
Exercises focus on working through problem-solving scenarios with different strategies. Other exercises help the person work through procedures and actions in daily life. CRT exercises also focus on the person's metacognition. Metacognition is the observation of one's thinking. This is a vital skill for improving self-awareness, social skills and learning about one's environment.
Goals of CRT
The primary goal of cognitive remedial training is to improve impaired cognitive skills. This improvement promotes better social interactions, daily functioning and overall quality of life.
Who Benefits from Cognitive Remediation Therapy?
Cognitive remediation therapy is helpful when combined with typical treatment for several mental health disorders. When people can think and learn more clearly, they can improve more easily and better understand their own recovery process. Better cognitive functioning is an important part of successful treatment.
Cognitive remediation therapy can be beneficial to people with a wide range of mental health conditions, including:
Schizophrenia: Widespread cognitive decline is one of the core features of schizophrenia. Cognitive remediation significantly improves the skills needed for daily living
Dementias( Alzheimer's, Vascular and other types )
Attention-Deficit Hyperactivity Disorder: Cognitive remediation therapy has shown to be useful for improving working memory, but research results have been mixed with the effect on symptoms or other skills.
Obsessive-Compulsive Disorder (OCD): Cognitive remediation therapy restores cognitive functioning to prevent OCD symptoms from getting worse.
Autism Spectrum Disorder: More research is needed to know whether cognitive enhancement therapy for autism spectrum disorder would be helpful.
How Does CRT Work?
The main goal of cognitive remediation therapy is to improve cognitive decline, which can develop when a major mental health disorder interferes with a person's core cognitive skills. As a result, a person can struggle with recovery even when their symptoms appear to improve.
Cognitive remediation therapy is delivered as a series of practice sessions to strengthen a particular cognitive skill, like working memory or attention. Practice can take place in the therapy setting and between sessions. Some common methods include using cognitive remediation worksheets, journals and exercises done on a computer. This treatment requires some level of sustained concentration to be effective.
Cognitive Domains
Substance misuse can also cause cognitive decline. The risk of cognitive decline is higher if substance misuse is ignored for a long period of time. The cognitive domains affected by substance use disorders are the same ones helped by cognitive remediation therapy, and include:
Orientation
Memory
Attention Span
Language
Visio-motor skills
Fine motor Skills and balance
Language and Communication
Construction and Judgement
Just like the muscles in a person's body, the brain can practice specific functional skills and improve its functionality over time. Cognitive remediation therapy is a simple but promising approach to help people experiencing cognitive decline. Therapy involves the repetition of simple exercises and games. The individual gets practice by participating in these activities on a regular and frequent basis. While this type of therapy is not widely recognized by the general public, it is a helpful therapy for people needing to improve daily functioning.

BOOK APPOINTMENT