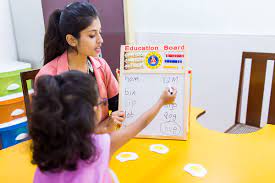 Educational Remediation Therapy
Mrs. Madhumita Kshirsagar, M. Com, N.T.T., M. A. Psychology (Scholar), is a remedial therapist at CIBS and handles the Educational Remediation Program working extensively with children having Learning Difficulties and scholastic problems.
THE APPROACH FOR THE TREATMENT OF LEARNING DIFFICULTIES:
"SOAHM"
(Scholastic Operations for Academically Handicapped and Mentorship)

1. Assessment
The students are assessed at two levels:-
Informal Assessment
Informal assessment of the child using his /her reading & writing samples and the parents' rating is done with the following tools:-
NCLD Learning Disabilities Checklist.
Early Learning and Observation & Rating Scale (ELORS).
Therapist checklist.
Formal assessment
After the child has been assessed informally using the above tools, formal assessment is done using the following tools:
IQ ( Malin's Intelligence Scale for Indian Children )
Diagnostic Test of Learning Disability (DTLD), SNDT.
Wide Range Achievement Test


BOOK APPOINTMENT