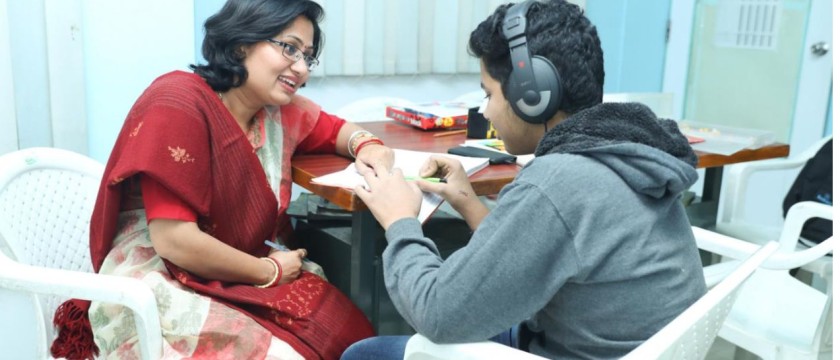 Nov 24,2021
SOAHM
Mrs. Madhumita Kshirsagaris a Remedial Therapist at CIBS and handles the RemedialEducation Program working extensively with children having Learning Difficulties and scholastic problems. She had done herMastersin Counselling Psychology, Advanced Diploma in Child Education & Applied Psychology, Certificate in 'Teacher Training in Counselling Children with Learning Disability.By her dedicated and compassionate approach as a Remedial Teachershe has evaluated,intervened, and given positive results to 400+ children of age 7to18yearswith learning difficulties.She strongly believes that every child has inner potentials that need support for expression.
THE APPROACH FOR THE TREATMENT OF LEARNING DIFFICULTIES
"SOAHM"
(Scholastic Operations for Academically Handicapped and Mentorship)
Assessment
The students are assessed at two levels:-
Informal Assessment
Informal assessment of the child using his /her reading & writing samples and the parents' rating is done with the following tools:-
NCLD Learning Disabilities Checklist.
Early Learning and Observation & Rating Scale (ELORS).
Therapist checklist. Formal assessment After the child has been assessed informally using the above tools, formal assessment is done using the following tools:
IQ ( Malin's Intelligence Scale for Indian Children )
Diagnostic Test of Learning Disability (DTLD), SNDT.
Wide Range Achievement Test
Parents' Sensitization
On the basis of the above assessment of the parents are sensitized on the following points:-
Description of the issue observed in the child.
Plan of the therapy and available tools and techniques.
Sessions required for effective learning and improvement.
Certification procedure.
Advocacy
Bridging with Schools
Teaching learning disabled children is a team work of the class teacher and the special educator. Thus bridging with school is an essential part of the therapy.
Therapies Conducted at CIBS
IQ wise therapeutic modules.
Individualized Education Program (IEP).
Visual perception activities to increase attention span
Fine motor sensory activities to improve handwriting.
Auditory perception activitiesto enhance listening skill and build up classroom attention.
Phonetic reading to develop pronunciation and spellings.
Effective strategies to create foundational skills of math.
Language and Comprehension activities for sentence grammar and creative writing.
Develop learning strategies to Overcome Exam Fear
Enhancing study skills needed at school.


Home Based Therapies (conducted by Parent – tutor team at home)
Individualized Education Program (IEP) is designed by the special educator for the child according to his / her needs.
Parents and tutors are trained and explained by the Remedial educator as how to conduct the IEP at home.
The Home based therapy is monitored online for the proper progress.
The Home based therapy is been reviewed at regular interval.


Parents' Guidance Program

Fruitful interaction with the Remedial educator on the child's performance through regular Parent Teacher Meetings.
Workshops for parents on better handling of the children and their academic growth.
Career guidance for higher class students considering their capabilities.

Training Program
The training programs for Educators, Psychologist and Teachers cover strategies to understand, screen, assess and help children overcome their academic difficulties, learn effective learning strategies to improve reading, writing and mathematical skills


MISSION
SOAHM aims to empower students and help them achieve their academic goals with a positive sense of self, dignity and equality.
VISION
SOAHM strive to create and support inclusive community for all Learning Disabled and Slow Learners using ethical, economical, scientific and culturally acceptable methods.